Yesterday a friend of mine posted on Facebook about modesty and humility. It's not a subject I've ever really given a whole lot of thought to before, but I find myself really pondering this whole subject ever since.
Personally I can't stop thinking about this and how it applies to my own life. I grew up putting myself in the modest box in a BIG way. I'd seek perfection of myself in just about everything and be devastated when I failed. I would constantly undersell who I was at every turn like it was my job. That constant quest for impossible perfection. I have always had a difficult time thinking my achievements were enough, I've gotten really good at trying to somehow reduce everything I do. Make my accomplishments small or only see the things I could have done better. It's like a massive form of internal torture. I've really only become aware of this <sarcasm> glorious </sarcasm> behavior in the last ten years or so. At least in recognizing it I've learned there is something I can actively do something about it.
I now call that negative voice that likes to take over my thoughts my "shit bird". It likes to land on my shoulder and shit all over just about everything I allow it to.  I've been learning how to shoo the damn shit bird off and clean up it's tracks little by little. I've gotten better at seeing my gifts as I've gotten older, something Karen mentions in her posts. I've even learned to celebrate some of my accomplishments – especially professionally. But when it comes to my body I'm still a little stuck. At the moment the shit bird still rules the roost when it comes to how I see my body and my physical capabilities more often than not. This post has me thinking a lot about how to get unstuck here too.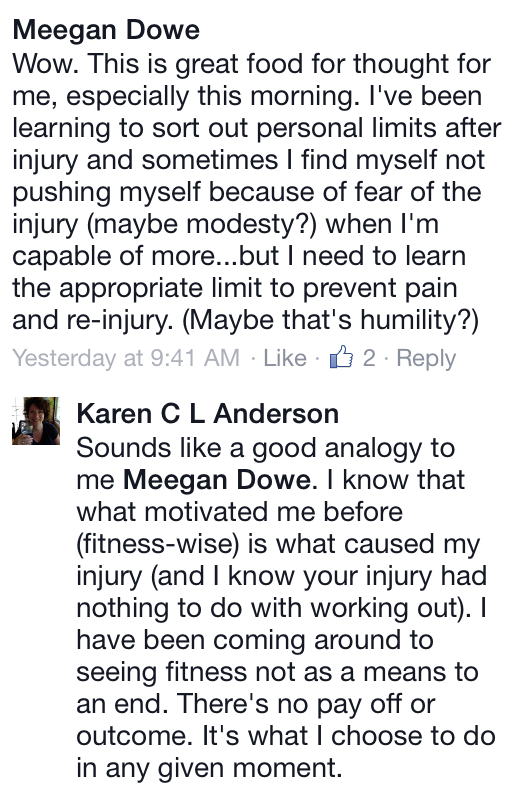 What's interesting for me is how all of this applies to chronic pain and injury. What I'm learning these last few years about pain is that it seems to have this super power of taking you backwards in time. Back to a place where you look for all of the things that soothe you like when you were a kid and fell a little too hard. For me that includes those old deep set habits of getting really mean to myself. And wanting to eat things I know don't help – sweet, salty and processed.
Karen's analogy was like a lightening bolt of connection for me. I can see how this pattern has been playing out for me when it comes to fitness. I've been doing Crossfit for about 7 months now. I've been learning how to balance the movements with pain and how things with my injury flare up. It's been a process of trying to learn when I'm really just underselling myself out of fear instead of pushing myself to do what I'm truly physically capable of (too much modesty) with when it's appropriate to stop or pull back because I'm preventing more pain or further injury (true humility).
Like so many things in my life it comes back to recognizing that I'm just HUMAN. And that's without doubt okay. The concept I learned of "perfection" so long ago is impossible and it's not something to strive for. Modesty doesn't help serve me. It's just a form of personal torture to let go of. Turns out it's more humility I need. That's something I can focus on that feels like the right kind of possible.