Perspective
I turned 34 on February 4th. My 30th birthday was a big catalyst for me starting my life changing journey, or as my friend Susan Ito (Foodie McBody) calls it my 'Healthaversary'. How lucky for me that my birthday and my Healthaversary happen to be one in the same. For me it's the time of year that really reflect on where I've been and what I really want to accomplish in my next year of life. It's like my own personal New Year one month and three days late.
This year for my Healthaversary I wanted to focus. I wanted to sort through the year and a half of recovery and rebuild some physical and emotional prowess. So I gave myself a bit of a challenge. Take three steps back from the phone, the computer and the exposure to what every one else has going on and focus on me. And I have. The last couple of months I've taken a back seat a from my social media exposure. And through a major miracle of strength of mind I have managed to start a new habit. No iphone in the bedroom.
My bedtime iPhone relationship
Yes. I'm one of those. (or I was). I would check my phone and Facebook feed and email before I tried to fall asleep and I would catch myself checking my phone before looking into my Mate Tara's eyes to say good morning. And my sleep has never been great. I hung onto the habit out of attachment and would use the excuse "but it's the only alarm clock we have" when Tara would ask me to try leaving it plugged in in the kitchen all night. It was scary for some reason to feel three rooms of detachment. But, I did it. We went and found an old school alarm clock and from that night forward my phone gets plugged in as we're getting ready for bed in the kitchen and there it stays until the next morning.
And you know what?
It's gotten a whole lot easier to leave it there. To wind my brain down at night. To connect with the love of my life. To find pleasure in reading a book again before I drift off to sleep. It's been a big WIN. And a new habit I think will stick for good. Thank you 'healthaversary' for the gift of freedom from something I didn't even realize was sinking me as much as it was.
Spring Fever
There's something about Spring that gets me excited about the year ahead. It's more than just the longer days and the sunny warmth and new growth all around. It's a feeling of really wanting to get my stuff together. This month (April) it will be four years that I started working out with my Trainer Chris at Functional Fitness. I've always needed to maintain goals to keep moving forward. I feel a little aimless when I don't have something I'm working on. So on my birthday/Healthaversary I came up with a plan. A stars on a calendar plan that hails from my elementary school days. Here's how it works: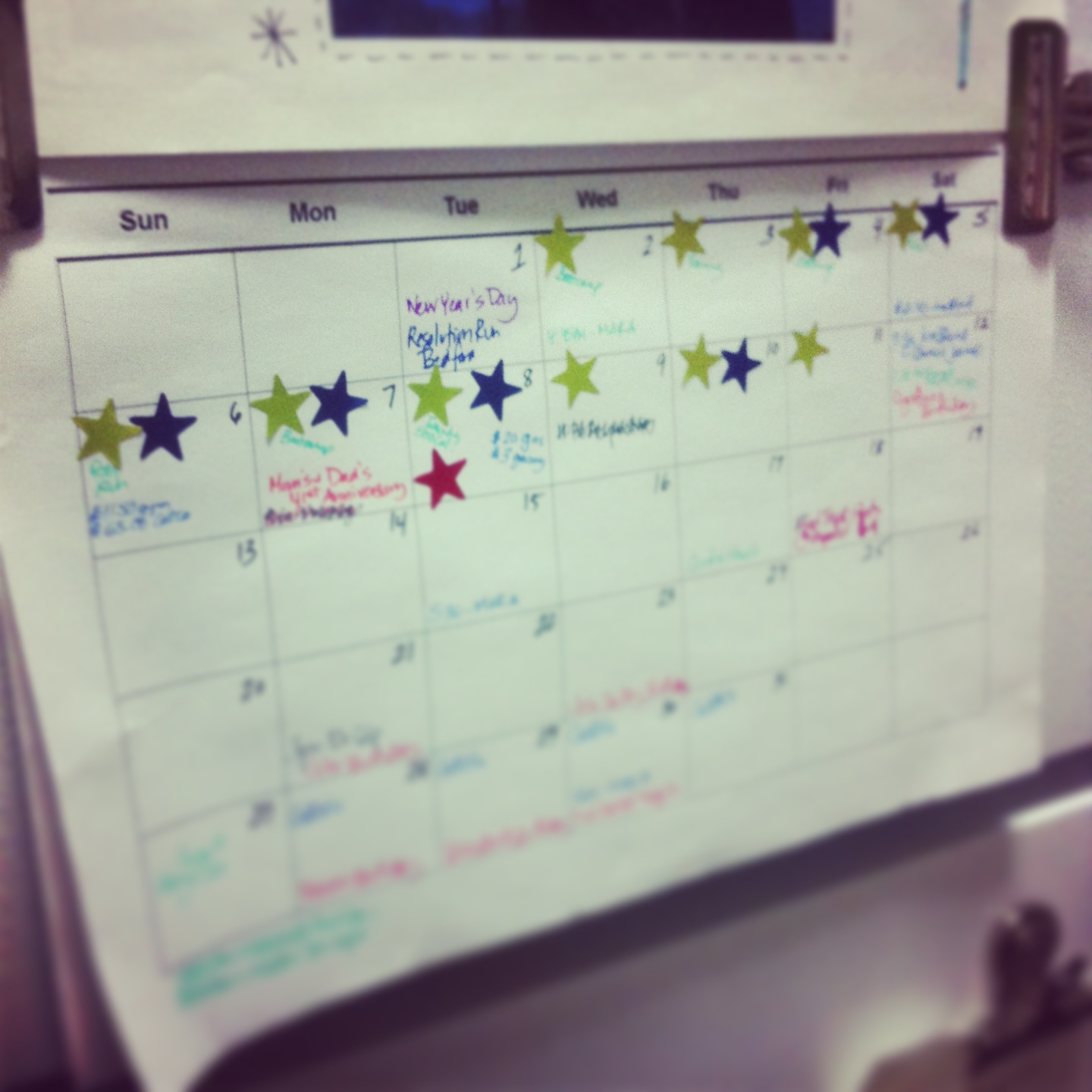 How I'm Doing It
I'm keeping it simple. I'm not taking on too much. And I've got a super easy system that is really working for me. See that calendar up there? T and I have had a calendar on the fridge like this as long as we've lived together. It's how we keep track of lots of things, races, dinners and outings with friends, appointments etc. And now, it's how I keep track of my goals. I use stars. Just like in grade school. And you know what? IT STILL WORKS!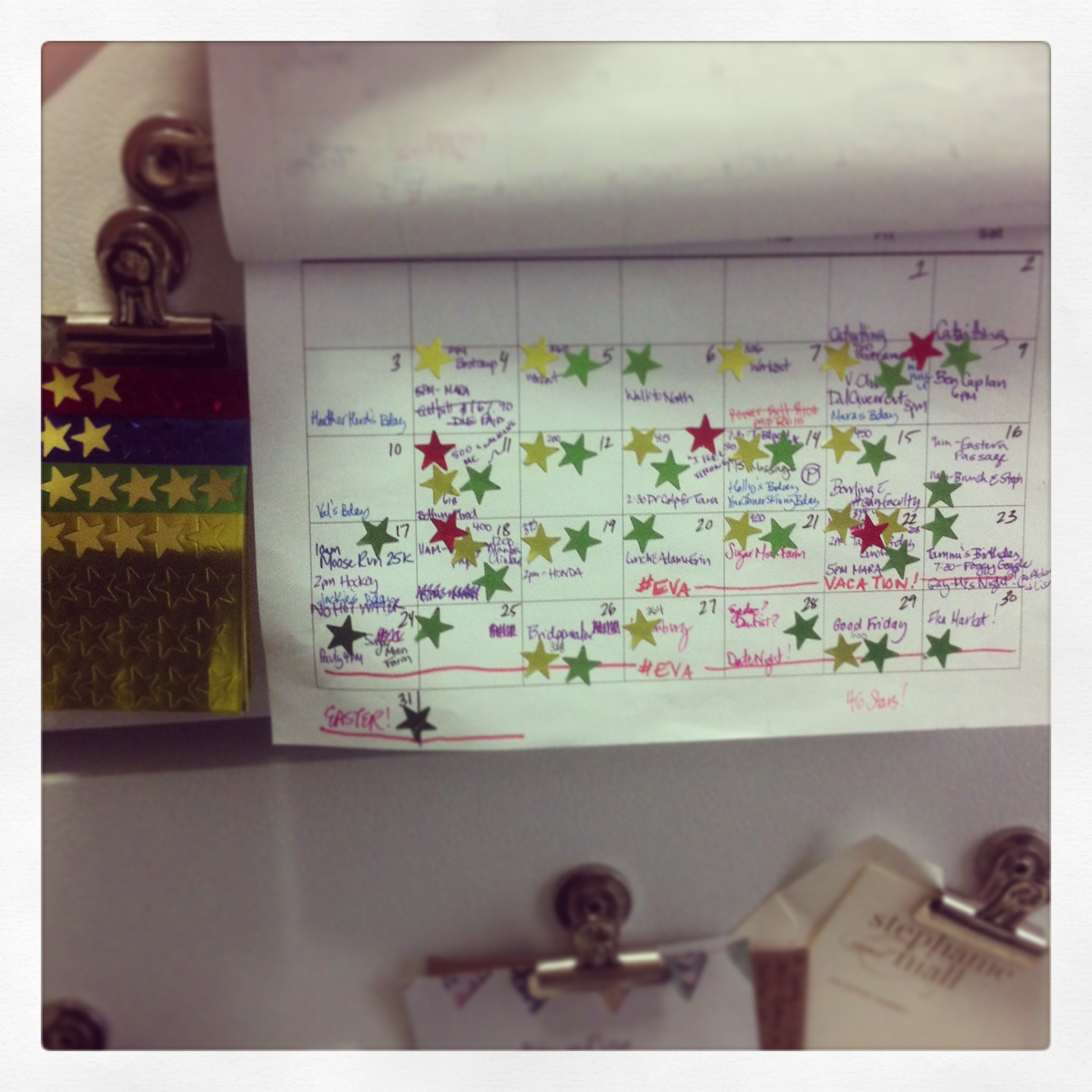 The Gold Stars : are for my daily workout completed (or a due rest day)

The Blue Stars : are for my water intake, at least 8cups a day but shooting for 12.5 (100 oz)
The Red Stars : are for extra special, holy crap I kicked serious ass days
I've been using my star system now for three months. I've earned that gold star consistently at least 5 times a week. The water sometimes eludes me, but I've got more blue stars than not (especially since we started using this app called Plant Nanny). And guess what? It's been a whole lot easier to focus. I'm trying some things and I'm regaining more strength physically and mentally that I've been missing. That whole 'keep it simple' thing really does work.
Don't Forget the Reward
Here's the catch though…if you don't give yourself a reward for all of those stars earned, I mean besides stacking them up every day and reveling in your awesome-ness, you might start to falter a little. I had a tough time thinking up a reward for myself that didn't revolve around food. (go figure) But Spring reminded me of something…flowers on my desk at work make me feel good. They aren't too expensive and if I can stack up more than 10 stars in a week I get to have some. March meant some tulips for me week to week and I loved it!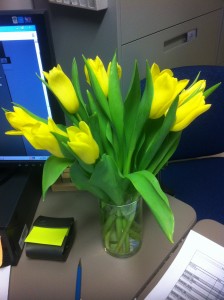 Exciting Things
This last week has been a whirlwind of excitement for Tara and I. Tara has been here in Canada since the day after my accident, November 8th, 2011. And she's been here as a visitor while we awaited our application for Permanent Residency for T on spousal sponsorship. The last 18 months have been a trial of patience and frustration with a process we had absolutely no control over. We watched the mailbox every day in hopes that the Confirmation paperwork would finally be in there. And last week (while I was conveniently on vacation from work) it arrived. Finally at long last Tara is an official Permanent Resident of Canada and she is able to work and earn an income. And being the person of action that she is, the minute she had the PR documents, we went and got her Social Insurance Number and she applied for work. The day after that she had a job interview and the day after that a full time job offer. She starts work thing coming Wednesday.
It means a lot of change coming up for us. Change in our routine, in our income and in the amount of time that we will have to spend together. It's exciting and a little bit scary to see how our relationship will evolve now that our constant waiting is over. We both have a lot to look forward to and some very serious goals coming up. Tara will tackle her first Half Ironman on June 23rd and on the very first day Tara starts her full time job I will be starting the incredible Mara Glatzel's BLH Live 12 week course. I have never feel a stronger pull to try something or to push outside my emotional comfort zone and I'm really excited to see how it all unfolds.
Spring is Springing
One of things I've missed the most about my hiatus from social media is reading what you're all up to. Link me your latest! Tell me what you've been up to. What do you have to look forward to this Spring? Three months into 2013 what you done just for you? Are you as excited as I am to see the buds budding and the sun shining a little bit longer each day?