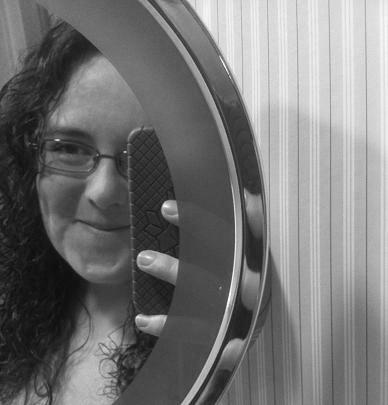 2013 feels like a lot of blur. There was black, there was white, but mostly it feels like gray.
That isn't to say that there wasn't a whole lot of good stuff happening, just that it feels like I was whirled around in a bit of a fog and BOOM I find myself on the edge of a brand new year.
Hello 2014.
I'm paying attention.
I'm slowing down.
I'd like to focus again please.
some amazing
Some amazing things I remember fondly from 2013: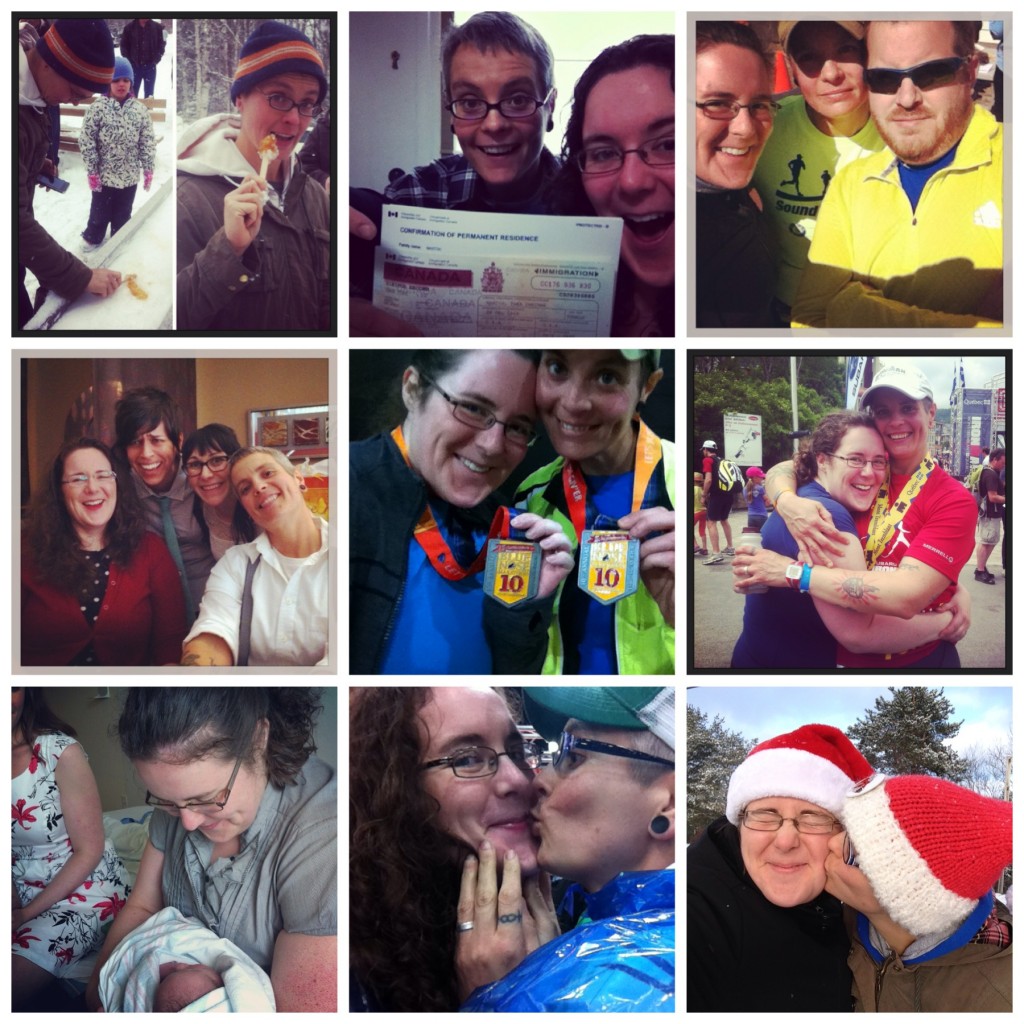 Maple sugar on snow at Sugar Moon Farms with Tara in March
Two weeks later Tara's Permanent Residency coming through and a whirlwind trip to the CAN/US Border
An April MEC 5K with my brother and T around the ramparts of Citadel
Seeing my most favorite Gaybours be happily wedded after in April
Moving from the Hydrostone over to Oxford Street in June
The Bluenose 10K and making it through (all be it slower than imagined)
Welcoming a new niece to the world – PLo July 3rd
Seeing Tara accomplish her big fitness goal of 2013 and becoming an Ironman 70.3
Surviving Mud Hero (despite my frustrations)
Witnessing dear friends find their people and marry with so much happy
Walking my first half marathon (with Tara by side) in September
An incredible fall vacation to the West Coast with the one I love (including the BEST DAY EVER!)
Embarking on my first jewelry craft shows before the Holidays with redstar5designs
Lots of Holiday joy with my friends and family
 some not so amazing
Some things that I'd very much like to let go of as I turn around and slow. the. eff. down into 2014:
All of the anger at my body and myself. I don't want to be so damn angry and guilty anymore. It's not my body's fault that my brain feels the pain, it's not my brain's fault that the default behavior to soothe the hurt with food is so damn carved in. No more blame and no more anger.
focus & wishes
Some things I'd really like to focus on in 2014:
I want T and I to really focus on reducing our debt in 2014.I'd love to be so close to debt free by 2015 that we feel less trapped by our debt and more free to plan adventures and think WAY outside our respective boxes.
I want to find the things that bring me fitness joy again. I miss being excited about my workouts. I miss waking up and looking forward to getting to the gym. Lately I just seem dread it, but feel more guilt when I don't get it done. I'm tired of worrying so much about not being the "right" weight. I'm tired of feeling like it matters so much. In fact, I'm not so sure it matters at all. I think what matters a helluva lot more is finding the movement stuff that makes me happy again.
 Lean eating
So I'm at the half way point of my year long return to the PN Lean Eating Program. My results haven't been what they were in six months this go round like they were the last go round. In fact, if you look at the scale there are no results at all. I've moved up and down the same 5lbs on the scale since the beginning. My measurements have slowly been following a downward trend since I started. But even there, it's 12 inches total in difference since July 2013. But you know where the progress does come in? My brain. My mind. I can feel the other grooves finding their way through my brain again. Slowly. Those habits are layering themselves down through my synapses and I can feel that I'm thinking a little differently when I panic (most of the time), and feeling a little differently about my body when I look in the mirror (more often).
I also know that there is a lot different this time than the last time and I need to be cautious when I compare. This time my life and how I plan things involves someone I care about very much. My decisions about when and what I eat and when and where I workout affect someone else. But more dramatically different this time than all of those other factors is that my drive is different. That underlying feeling that I could push myself without doubt or fear. The feeling that I was much more conscious about living my life, more focused on the things that made me burst with joy, more determined to enjoy how I was spending my time instead of worrying. The first time, I was deliberately choosing to take steps way outside of my comfort zone to see what it would feel like. I felt a whole lot more in control of me.
All of this said, I think I've realized that 2013 was a process of revisiting. It took me mentally a few steps backwards. Sometimes you need to go back to remember why it was you went forward in the first place. And I think I'm realizing I may need a little help to get me into forward motion again when it comes to the desire to push. The self assured feeling of worthiness.
all of which leads me to choosing a word for 2014.
wor·thy  (wûr)
adj.
wor·thi·er
, 
wor·thi·est
1. Having worth, merit, or value; useful or valuable.
2. Honorable; admirable: a worthy fellow.
3. Having sufficient worth; deserving: worthy to be revered; worthy of acclaim.
n.
pl.
wor·thies
An eminent or distinguished person.
2014 will be the year of worthiness. A reminder of all of the things that are worth it.
Including me.
I'd like to take the time I have left with the LE program and try to push harder. See if I can uncover my worth a little more by pushing.
 Push Harder
I really feel like I'm missing the feeling of Tara being proud of me. I feel like it's been a very long time since something I have done fitness wise has made T proud of me. I realize that's much more likely to be my impression and not actually the truth, but even in our first counselling session she talked about me being "so far behind her" when it comes to fitness ability etc. that she's wanted to stop pushing to make the gap between us feel smaller. That made me so. very. sad.  Part of the foundation of our relationship was as inspirations to each other. There was a point reading each other's journeys here in our blogs when were chasing each other's deadlift weights. And now. Now she doesn't want to push herself because it makes the gap between what she can do and what I can do larger. Farther for me to try and chase her. And if it gets too big she's afraid I'll never catch up.
Feeling of my heart breaking.
but then I read this from one of my superheroes M. Glatzel –  "You are strong enough to withstand a little heartbreak. Breathe into it. There is a lesson there, even if the lesson is simply to highlight the magnitude of your inner strength and resolve." and things break wide open once more.
A diagnosis
After almost two years on a wait list I finally got in to see a Neurologist here for an EMG and Nerve Conduction Study. I now know precisely what the trouble has been. I know I have an ulnar neuropathy, but not a nerve impingement. I know that there may always be some pain due to the nerve at my elbow being slightly off track, but it's not dangerous and there's no nerve involvement in other places that the test revealed. To finally KNOW an official diagnosis has been a relief. I can return to massage therapy and not worry about screwing something else up or having even more pain. When it comes to my injuries I finally know HOW I can move forward. I may always have pain, but the fear of making things worse is over. It's like a discovery that will allow me move on.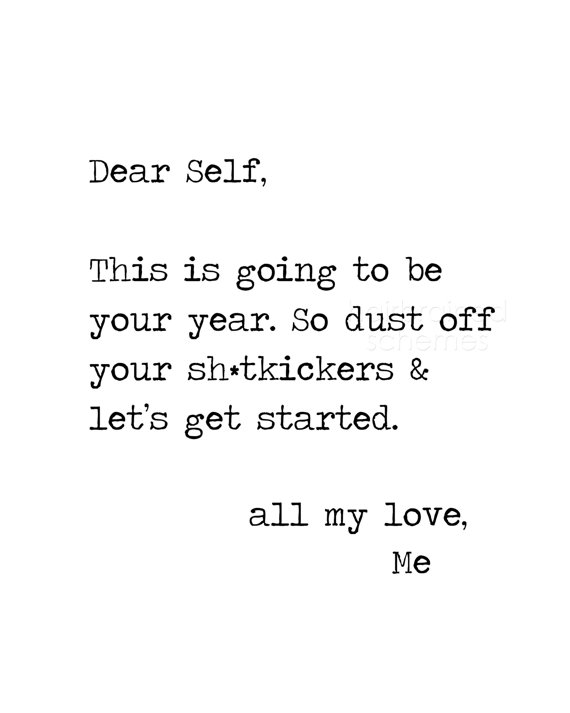 Dear 2014
So 2014 here's the deal. This year will be the year of worthiness.
It will be a year I rediscover my drive without fear and push myself again. Farther.
I will highlight just how damn big my inner strength and drive are.
I will find myself looking Tara in the eyes and hearing her tell me how proud of me she is once more.
But better than all of that. I'll be proud of myself.